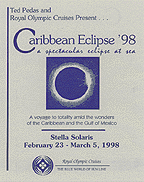 Dear Fellow Traveller,
We take pride in welcoming you on our Caribbean Eclipse '98 Cruise aboard the Stella Solaris.
This extraordinary voyage provides the best in travel — an exciting destination for an equally exciting event.
Past travellers on my Voyage to Darkness cruises are well aware of the spectacle provided by a total eclipse of the sun. On February 26, 1998, we will once again rendezvous with totality and share this unique experience.
Caribbean Eclipse '98 was designed to offer you a special opportunity to become involved in stimulating educational, cultural and scientific activities while enjoying the social and recreational pleasures of elegant cruising.
Caribbean Eclipse '98 features a distinguished team of international authorities and scholars, noted journalists, astronomers and educators, a renowned meteorologist and an expert photographer. They will provide you with lectures, seminars, round-table discussions, slide presentations and one-on-one discussions prior to the great event.
You will be able to witness first hand the work that goes on behind the scenes as a BBC television production crew tapes a special edition of The Sky at Night, featuring our lecturer, Patrick Moore.
As the sun sets on the Stella Solaris each evening, passengers can join our astronomers on deck to search for the elusive green flash. You can revel in the beauty and harmony of the universe and witness the starry grandeur that graces the skies from the unequaled vantage point of a ship at sea.
We welcome you aboard the Stella Solaris to share with us the camaraderie of friends and adventurers with like interests, the excitement of an exquisite cruise, the dramatic splendor of a total eclipse of the sun and the thrill of experiencing exciting destinations in the Caribbean.
Cordially,

Ted Pedas