Chasing the sun ignited a new career for Pedas
Astronomer is also entrepreneur
By Michael Roknick — Herald Business Editor
July 10, 2006
---
Everyone searches for that shining star to ignite a career. Ted Pedas found one that launched nearly 200 voyages.

Traveling to Quebec in 1963 to view a solar eclipse with his sister and her husband, Pedas saw the light.

"I never saw an eclipse before," Pedas said, "It was so majestic and wonderful I thought it would be nice to share with other people."

Through his Science at Sea Corp, the 67-year-old has created travel cruises designed not only to showcase the sky's celestial delights, but also educational tours spanning cultures from the ancient Maya ruins to the golden temples of Thailand.

Donating nearly $500,000 to Farrell School District over the years, Pedas is best known locally for his philanthropic work. But the Farrell resident has gained an international reputation as a pioneer in the theme cruise trade.

He got to this point on a road less traveled.

After graduating Farrell High School in 1956 his goal was to earn a business degree from Youngstown State University and then start his own business. As a lark, while attending YSU he took an elective course in Astronomy.

The former Soviet Union had just launched Sputnik, the first satellite to orbit earth, and Pedas became enthralled with outer space. He shifted away from business into the world of astronomy.

He evenutally received a masters' degree in planetarium science from Michigan State University and began working at Youngstown State University's new planetarium. Pedas also found time to take graduate courses at the University of California in Berkeley and earned a second masters' degree from YSU.

During the mid-60's Pennsylvania tapped into federal funds earmarked for public schools to build planetariums or observatories. Since Farrell was looking to build a new high school, the district contacted Pedas in 1967 and asked him to get their planetarium off the ground.

Accepting the challenge, he spent more than 30 years splitting his time helping to run both the YSU and Farrell planetariums.

In 1970 he was a full blown astronomy guru and knew a total eclipse of the sun was scheduled for late winter along the East Coast. Calculating the eclipse's path, he discovered it would cross the small town of Eclipse, Va. Excited at the prospects he presented a proposal to the town to run a festival to attract tourists to see the eclipse. He thought a deal was in hand when the town pulled the plug.

"It was just a couple of years earlier when Woodstock was held and they thought the town would be overrun by hippies and marijuana smokers," Pedas recalled.

That didn't snuff out his enthusiasm. In checking solar charts he found the next major eclipse was scheduled for late spring in 1972 along upper Canada and the North Atlantic. Realizing weather prospects in Canada during that time of the year were poor, he hatched a plan to pack tourists aboard a charter cruise ship to gaze at the eclipse in the friendlier skies of the North Atlantic.

With the help of relatives he contacted a dozen cruise lines. Their response brought him down to earth.

"They thought it was the most ridiculous, most asinine thing they ever heard of," Pedas said. "They said we were going in the wrong direction, that everybody wanted to go to the Caribbean."

It was the last cruising company on his list, Greek Line, which decided to give him a shot. As the line was having a dismal year with bleak prospects, the company bet the ranch on Pedas. They gave him use of their 25,000 ton Olympia ship — small by today's standards.

Crafting a press kit for the tour, Pedas mailed his packet to every newspaper under the sun. Calling the trip, "Voyage to Darkness," he convinced scientists at the prestigious Scripps Institute of Oceanography and Scott Carpenter, the second American to orbit the earth, to give lectures during the trip.

Selling out the cruise, Pedas held his breath for fair sailing weather.

In a stroke of luck, Hurricane Agnes socked Canada blacking out the eclipse to most observers while the Olympia was able to maneuver around the storm.

"Every photograph in newspapers and magazines you saw of the eclipse were from the Olympia," Pedas said.

On the financial side it was less stellar as Pedas didn't turn a profit.

"We didn't understand the business," Pedas said. But what was fascinating was aboard the Olympia were prominent individuals from philanthropists to advertising executives who gave us some really good advice."

Checking solar charts again he saw an eclipse over north Africa was scheduled the following year. It was the longest eclipse until the year 2150.

This time he planned a cruise with the Cunard Line and astronaut Neil Armstrong and other scientists agreed to lecture during the voyage. In all 3,200 sailed with Pedas on three ships to view the eclipse. Even better, the cruise racked up a tidy profit.

After that the stars were aligned for Pedas as he created odysseys from train rides through the American Plains to view an eclipse to sea voyages. One of the more adventurous outings was chartering a jet to race across Columbia in South America for an extended 12 minute view of an eclipse. Eclipses run in cycles about every 18 years.

Due to the earth's rotation each eclipse turns further east or west. Eclipses close to the equator last longer making them more desirable to watch.

Since his Halley's Comet cruise in 1986 Pedas has led a sailing adventure every year. Guest lecturers aboard his cruises are among the pantheon of speakers such as Walter Cronkite, James Mitchner and Isaac Asimov.

Ted Pedas was among the first to lead a major travel venture to the ancient Mayan ruin KuKulan in Chichen-Itza, Mexico, on the vernal equinox - the first day of spring. The Mayans designed the temple so that when the sun's rays hit the building on the equinox they reveal a symbolic image of a serpent descending the temple.

"My philosophy is the way to get people not to complain is to wear them out," Pedas joked. "Many times there are four or five lectures a day. People are running from classroom to classroom so they don't have time to be idle."

These days about 15 percent of his cruises are astronomy-related while the rest feature historical or scenic sites such as Easter Island or Pompeii, Italy. Before each cruise he compiles educational literature for passengers along with reading lists so they get a taste of what to expect.

Traveling with the passengers, he now reckons 47,000 travelers have joined him on his adventures which average about three weeks.

Primarily scheduled during the winter months, these getaways are mostly for the wealthy as longer voyages can run up to $30,000 a person and up. However, more economical cruises running $270 a day per person are available.

Planning years in advance, Pedas is now working on cruises for July 2009 when a long eclipse is due to cross the southern Pacific near India and China and another voyage in July 2010 when an eclipse will run across the Pacific Ocean close to South America.

Attracting folks at or near retirement age, Pedas has found this group is seeking more meaningful travel experiences.

"Older people haven't retired their minds." Pedas said. "They want to learn more about the solar system and the universe. What a wonderful laboratory it is to be aboard a ship like Columbus and the other great explorers and every day waking up wondering what wonders await today."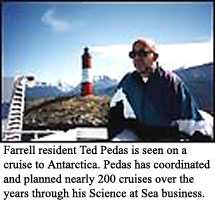 ---
Go to Ted Pedas — Index of News Articles