Dear Adventurer,
I take pride in inviting you to sail into history with us on my fifteenth discovery cruise to the land of the Maya. Since first developing this itinerary in the 1980's, we have had overwhelming response from adventurers like yourself who seek unique and rewarding travel experiences. Join us on this remarkable journey to natural wonders and exotic historical sites - to witness the great feathered serpent descend to Earth. We will marvel at the ancient world of the Maya and share with them a timeless astronomical rite.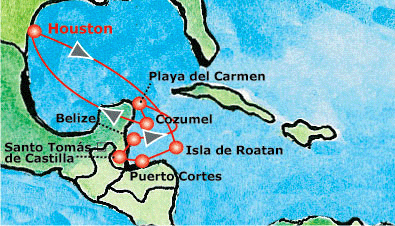 On this fascinating sea odyssey aboard Royal Olympia's brand new, Olympia Voyager, you will have the opportunity to view a recently rediscovered phenomenon of light and shadow that is best observed at the time of the vernal equinox, at one of the Western Hemisphere's largest and most impressive pyramids. Other than the ancient Maya, few people have ever witnessed this spectacle that occurs during equinoxes at the great El Castillo pyramid at Chichén Itzá in Mexico's Yucatan Peninsula. Now you, too, can take part in the pageantry and ceremony. The full-day optional excursion makes this cruise a truly unique travel experience.
Share with us a timeless astronomical rite during our " Maya Monuments, Temples and the Return of the Equinox Sun Serpent" sailing. We include the opportunity to take a full-day excursion to Chichén Itzá to witness, at sunset, the Equinox Sun Serpent descending the steps of the great El Castillo pyramid. This amazing celestial phenomenon of sun and shadow on stone is believed to represent the return to earth of the Maya god Kukulcan. Its meaning is only one of the many fascinating aspects of Maya culture that you will discover during lectures, round-table discussions and casual conversations on deck with our onboard lecture staff.
Worldwide interest is continuing to be generated in the extraordinary achievements of the ancient Maya civilization. A series of dramatic discoveries recently shed new light on the Maya which let Time magazine to proclaim "Mayamania" as one of the top ten science events of the last decade.
This voyage offers you more time in the land of the Maya than any other cruise itinerary. In addition to the tour of Chichén Itzá additional optional excursions are available to the magnificent ceremonial centers and enigmatic ruins of the highly-cultured Maya civilization at Tulum and San Gervasio in Mexico; Copan in Honduras; Tikal and Quirigua in Guatemala; Xunantunich, Altun Ha and Cahal Pech in Belize.
What makes this cruise so extraordinary?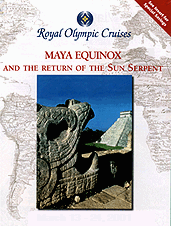 It is more than just a casual visit to picturesque sites. It is an educational voyage as well, led by distinguished experts who will lecture and guide you through the multifaceted riches and mysteries of the fabled Maya culture. Our lecturers will provide insight into the Maya civilization — one whose culture, politics, religion, and daily life were centered around astronomy, sky lore and mythologies — in an effort to unravel the mysteries of one of the world's most puzzling, yet advanced, civilizations.

The excursion to Chichén Itzá is designed to encompass the experience of an ancient Mesoamerican deity, the "feathered serpent," descending the temple steps to Earth. Ancient sun-worshippers around the world always welcomed the first day of spring with awe and wonder. Nowhere is this more evident than in Mexico's Yucatan peninsula where a natural phenomenon becomes a breathtaking rite of spring each March at the great Maya pyramid called El Castillo.

Now you can witness the same event celebrated by people a thousand years ago. As the Sun sets on March 21, 2003, the pyramid's western face will be bathed in the late afternoon sunlight — casting a rippling shadow onto the side of the north stairway. As the Sun sinks further and the shadows become longer, an undulating ribbon of darkness appears to run from the top of the staircase to the bottom, giving the illusion of a diamond-backed snake descending the steps of the pyramid. By sunset the shadows turn into a sequence of seven well-formed triangles — a fully developed serpent of sunlight. The entire north face of El Castillo is now dark, except for these triangles of light leading down to a massive stone-carved serpent head at the bottom. Very few phenomena live up to their reputations — this is one that does.

From the towering El Castillo pyramid our escorted tour will cover the remainder of this largest and most-restored archaeological site in Mexico. Here we will explore the temples, altars, ball courts, and market places. Special focus will be given to "El Caracol," an ancient astronomical observatory.

The Maya civilization was centered around the timeless and recurring cycles of the heavens. Their sky lore and mythology offer a unique perspective of the Universe - one that is still being revealed today.

We look forward to welcoming you on board and enjoying with you the excitement, mystery, adventure and warm camaraderie of our Maya Monuments, Temples, and the Return of the Equinox Sun Serpent cruise. Come…join us as we visit these fascinating lands brimming with the mysteries of an ancient civilization.

Join us on board -- the adventure awaits!



Project Coordinator
Maya Monuments, Temples and the Return of the Equinox Sun Serpent