Pedas counted Carpenter as a close friend for more than four decades.
"He would say to me, 'You're a teacher in the best sense of the word,' " Pedas remembered Friday, the day after Carpenter died in a Denver hospice of complications from a stroke.
The 88-year-old Carpenter told Pedas that when he was growing up he dreamed of being a cowboy.
As one of the original Mercury 6 astronauts who had the "Right Stuff" to tackle President John F. Kennedy's challenge to make it to the moon during the 1960s, Carpenter fulfilled that dream, Pedas said.
"In a way, he was a modern cowboy," Pedas said.
A space cowboy, as some might say, and later a sea cowboy, exploring the wonders of the deep.
Carpenter followed John Glenn into orbit, and it was Carpenter who gave him the historic sendoff, "Godspeed John Glenn."
The two were the last survivors of the famed original Mercury 7 astronauts. Glenn is the only one left alive.
In his only flight, Carpenter missed his landing by 288 miles, leaving a nation on edge for an hour as it watched live and putting Carpenter on the outs with his NASA bosses. So Carpenter found a new place to explore: the ocean floor.
He was the only person who was both an astronaut and an aquanaut, exploring the old ocean and what President Kennedy called "the new ocean" - space.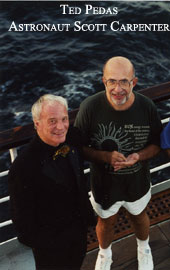 "He believed so strongly in President Kennedy," Pedas remembered, and he answered Kennedy's call to action to explore the wonders of the final frontier, space.
Life was an adventure for Carpenter and he said it should be for others: "Every child has got to seek his own destiny. All I can say is that I have had a great time seeking my own."
The launch into space was nerve-racking for the Navy pilot on the morning of May 24, 1962.
"You're looking out at a totally black sky, seeing an altimeter reading of 90,000 feet and realize you are going straight up. And the thought crossed my mind: What am I doing?" Carpenter said 49 years later in a joint lecture with Glenn at the Smithsonian Institution.
For Carpenter, the momentary fear was worth it, he said in 2011: "The view of Mother Earth and the weightlessness is an addictive combination of senses."
The heights to which Carpenter rose didn't effect his ego, Pedas said.
"He was very, very, very humble," Pedas said, remembering that Carpenter was the only scientist or celebrity who said "yes" to Pedas' effort in July 1972 to put on an educational cruise on the Atlantic during that year's total eclipse of the sun.
Over the subsequent decades, Carpenter took part in 32 of Pedas' cruises.
He was one of the few dignitaries who cruised with Pedas who wasn't "selling something" like a book and he never charged for autographs, Pedas said.
"He said the American taxpayers paid my way all my life and I owe it to them," Pedas said.
Pedas remembered Carpenter's relentless curiosity to discover how things worked.
"He was a very unique person," Pedas said.
Carpenter once joked there was more technology in a modern wristwatch than there was on the Aurora 7 space capsule he piloted.
They had to manually wind the clock on that spaceship, Carpenter told Pedas.
He was the most physically fit, but the least educated of the original astronauts, Pedas said.
But Carpenter had "enormous discipline," Pedas said.
His passing marks the end of an era, Pedas said.
"They won't see the likes of these kinds of people again," Pedas said of the Mercury 7 astronauts.
"Under very trying conditions, they set the standards," Pedas said.