Ted Pedas remembers Neil Armstrong, the farmer
By Tom Davidson — Herald Staff Writer
August 27, 2012
---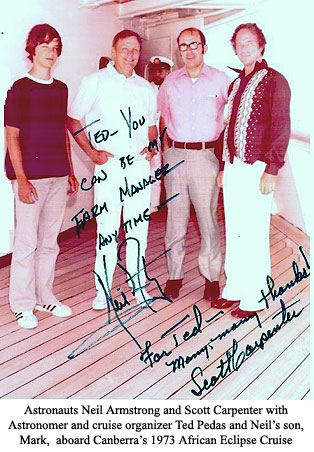 Left to right - Mark Armstrong with his Dad, Apollo 11 Astronaut Neil Armstrong, Astronomer Ted Pedas, Mercury Astronaut Scott Carpenter
---
FARRELL - For almost 40 years, Farrell's Ted Pedas had a standing offer to manage Neil Armstrong's Ohio farm.

"Any time you want to manage my farm, you have the job. You are a manager extraordinaire," Armstrong wrote to Pedas after taking part in a 1973 "Voyage to Darkness" cruise the Farrell astronomer and scientific cruise leader organized.

"He loved his farm," Pedas said Sunday, the day after Armstrong died at 82.

"He considered himself more of a farmer than a scientist," Pedas said.

He remembered the celebrated astronaut who was the first man on the moon as a "simple person" who shied away from an adoring public.

Armstrong agreed to take part in the cruise only if his name wasn't used to promote it, Pedas said.

He rounded out a cast of legends on the cruise.

"It was extraordinary," Pedas said of the group, which also included famed authors Isaac Asimov, Ray Bradbury, Arthur C. Clarke and astronaut Scott Carpenter.

Armstrong and his family had kept to themselves on the cruise until his teen-aged sons became interested in Carpenter's lectures, Pedas remembered.

"He was very, very humble," Pedas said.
Left to right - Dr. Phil Sigler, Mark Armstrong, Neil Armstrong
Ted Pedas, Captain Eric Snowden, Scott Carpenter, Canberra Staff.
Armstrong spent one evening helping kids cut out pieces of styrofoam to make "skyscopes" to measure distances between stars, Pedas said.
"That was the funniest sight, to see him cutting," Pedas said.
He overheard one teenage boy share his story of meeting Armstrong.
"Do you know who that was that looked at my telescope," the boy said, Pedas remembered. "That was the first man that walked on the moon. I'm never going to wash my hand again."
In the years that followed the 17-day cruise, Pedas and Armstrong kept in touch and Pedas called him "an extraordinarily wonderful person."
Although he shied away from the spotlight, Armstrong's achievement truly was "a giant leap for mankind."
Although more than half of the world's population wasn't alive then, it was an event that changed and expanded the globe.
"It's a human achievement that will be remembered forever," said John Logsdon, professor emeritus of space policy at George Washington University.
Those first steps were beamed to nearly every country around the world, thanks to a recently launched satellite. It was truly the first global mass media event, Logsdon said. An estimated 600 million people - 1 out of every 5 on the planet - watched.
The two historical events likely to be long remembered from the 20th Century are the moon landing and the first atomic bomb, said Smithsonian Institution space curator Roger Launius.
"There is no way to overestimate that significance in human history and he is forever linked to that," Launius said of Armstrong.
Just as the voyage of Christopher Columbus split historic eras 500 years ago, so will Neil Armstrong and Apollo 11, said Rice University historian Douglas Brinkley, a specialist in 20th Century history.
"We may be living in the age of Armstrong," said Brinkley, who conducted oral histories for NASA, including sessions with Armstrong.
Clarke, the late science fiction author, wrote that the Apollo 11 moon landing was "one of the great divides in human history; we are sundered from it forever by the moment when Neil Armstrong and Buzz Aldrin stepped out on to the Sea of Tranquility. Now history and fiction have become inexorably intertwined."
Since that day, there's been a common phrase: "If we can send a man to the moon, why can't we ... ?" with the blank filled with a task that seems far less difficult.
---
Go to Ted Pedas — Index of News Articles