A Page of Opinion
Saturday, April 22, 1978
'Ted Pedas Day' deserved recognition
---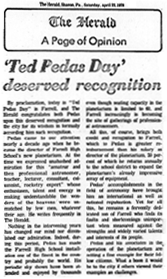 By proclamation, today is "Ted Pedas Day" in Farrell, and The Herald congratulates both Pedas upon this deserved recognition and the city for its wisdom in formally according him such recognition.

Pedas came to our attention nearly a decade ago when he became the director of Farrell High School's new planetarium. At the time we expressed unabashed admiration for this "amateur and then professional astronomer, teacher, lecturer, consultant, columnist, rocketry expert" whose enthusiasm, talent and energy in making understandable the wonders of the heavens were unmatched by few men, whatever their age. He writes frequently in The Herald.

Nothing in the intervening years has changed our mind nor diminished our admiration. Indeed, during this period, Pedas has made the Farrell High School installation one of the finest in the country and probably the world. His periodic sky shows have been attended and enjoyed by thousands and Farrell increasingly is becoming the site of gatherings of professional astronomers.

All this, of course, brings both credit and recognition to Farrell, which to Pedas is greater reimbursement than his salary as director of the planetarium, 20 percent of which he returns annually to the school district to expand the planetarium's already impressive array of equipment.

Pedas' accomplishments in the field of astronomy have brought him an international as well as national reputation. Yet for all this, he remains a fervently dedicated son of Farrell who finds its faults and shortcomings unimportant when measured against the strengths and widely varied talents, and interests of its people.

Pedas and his associates in the operation of the planetarium are setting a fine example for their fellow citizens. What a boom it would be to the city if others viewed their examples as challenges.
---
Return to Ted Pedas — Index of News Articles