The Herald Spectrum

Studying the sun, the moon, the stars — sky's a puzzle to planetarium director at FHS
By Sandy Scarmack
Herald Staff Writer —Saturday, October 1, 1988
---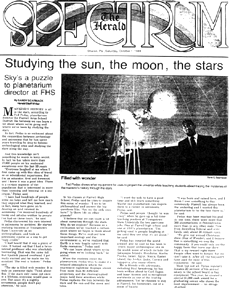 Mankind's History is all in the stars, according to Ted Pedas, planetarium director for Farrell Area School District. He believes we can learn a lot about where we're going and where we've been by studying the stars.

In fact, Pedas is so enthused about the connection between archeology and astronomy that he has spent years traveling by ship to famous archeological sites and studying the stars along the way.

And this knowledge isn't someting he wants to keep secret. In fact, he has taken more than 17,000 people on his seabound excursions over the last 18 years.

"Everyone laughed at me when I first came up with this idea of travel as an educational experience. But I'm an educator, first and foremost, and I knew it was a good idea. There is a certain segment of the population that is interested in more than 'snoozing and boozing' on a sea cruise, " Pedas said.

"I have had hundreds of people write me later and tell me how much they enjoyed what they learned, and in fact, many have gone on to develop an avid interest in astronomy. I've received hundreds of books and articles written by people I've had on these tours," he said.

Pedas discovered his own interest in astronomy by accident. He started studying business at Youngstown State University as an undergraduate, and took an astronomy course as a way to get "easy credit."

"I had heard that it was a piece of cake. It turned out that I had a twice-retired professor who was absolutely fascinating. That was the same fall that Sputnik passed overhead. I got really excited and he made me his assistant. The rest is history," Pedas said.

"The sky is filled with wonder. It is truly an awesome sight. Think about this: If the stars only came out once in a lifetime, everyone would gaze in awe. But since it's a nightly occurrence, people don't pay attention, " he said.

In his classes at Farrell High School, Pedas said he tries to inspire this sense of wonder. "I try to be philosophical and answer the big questions like, 'Are we the only ones here?' 'Is there life on other planets?'

"I believe that we can learn a lot about ourselves through the stars.

Why do we explore? Because as a civilization we've reached a certain point where we begin to think about these things. We've realized how important ecology and the environment is; we've realized that Earth is a very fragile sphere with finite resources," Pedas said.

"We can learn about where we're going when we're looking back," he added.

When the students enter the planetarium, Pedas tries to make it a relaxed atmosphere where the impressive nightime displays, shown from more than 80 different projectors, and the choreographed music hold their attention while Pedas explains the ties between the stars and the sun and the moon and tides.

Pedas said people "thought he was crazy" when he gave up a full-time teaching position at Youngstown State University for two part-time jobs. One at Farrell high school and one at YSU's planetarium. "I'm getting used to people laughing at me until they see what it's all about,"he said.

Pedas has traveled the world around, and he said he has been to "every major archeological site in the world, some of which include the Galapagos Islands, Honduras, Machu Picchu, Israel, Egypt, Nazca, Easter Island, the Andes and Quito plus many others.

He is friends with astronauts, including Neil Armstrong; he has abeen written about by Carl Sagan and Isaac Asimov and is recognized worldwide as one of the leading astronomers. Yet he chooses to stay in Farrell, his hometown, out of a sense of loyalty.

"I was born and raised here, and I think I owe something to this community. Farrell has always been the underdog and I wanted this planetarium to be the best there is," he said.

Pedas may have reached his goal. At one time, there were more than 300 planetariums in Pennsylvania, more than in any other state. Now, from dwindling federal and state funds, only about 20 remain open.

"We give our annual Christmas show (Star of Wonder), and I believe that is something we owe the community. If you could only see the happy faces that leave our show. That is my reward right there. People often want to donate, but we don't take it. After all, the taxpayers have paid for most of this equipment," he said.

Most, but not all. Pedas regularly donates 20 percent of his annuyal salary to the school board to buy equipment. This year, he created a special $1,000 cash award for a graduating senior who shows the most improvement — no strings attached.

"I'm an educator and I believe in the school system. I want to see kids enjoy themselves when they come to school. Our planetarium here is a little break fronm the monotony of the classroom," he said.

"We give a few clues about the universe and we try to elaborate. But the sky is like a big puzzle and we're here to help everyone figure it out," he said.
---
Return to Ted Pedas — Index of News Articles