---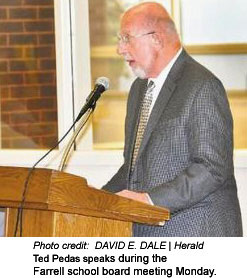 FARRELL - "It pays to do well, in more ways than one," Farrell schools Superintendent Lora Adams-King said, reflecting on Monday night's student and employee awards, courtesy of a substantial, annual donation by alumnus and resident philanthropist Ted Pedas.

Pedas has, over the last 46 years, contributed more than $780,000 to Farrell Area School District. His donations continue to fund monetary awards and school programs.

This year, he donated $50,000 to fund several initiatives, including nine monetary awards, the Model Rocketry and Flight in Education program, the Alumni Hall of Fame and renovations and technological enhancements to the Ted Pedas Planetarium.

He also announced the anticipated return of free public planetarium shows, absent for more than a decade, the first of which is Christmas themed and scheduled to start in December.

One of the renovations making new programs possible is "allsky" technology, which allows for full-dome, 360-degree viewing, according to Pedas.

"We're making a lot of additions," he said. "We can do just about anything the large planetariums can do."

The facility is ready for the year's academic programs, he said, and is waiting on some final touches before public programming begins later this year.

Pedas spoke briefly about growing up in Farrell and, despite traveling the globe and hobnobbing with some of the world's academic elite, continuing to reside in the city to leave his footprint - making a difference in the lives of students and community members.

"I look at my city, Farrell, as my family; my extended family," Pedas said. "If there's love amongst people, there's no better way to show it than by giving."

Monday's presentation saw a total of 25 students recognized for academic improvement and "Student of the Year" awards.

Prior to the awards presentation, Pedas said he's been questioned over the years as to whether giving young students monetary awards is appropriate.

"It's a great feeling for someone to recognize them," he said, having received numerous positive responses about how his awards inspired confidence in students past and present. "An award with their name on it is very meaningful."

One new award was announced for presentation in 2016 - Junior Citizen of the Year, which will recognize residents of Farrell or Wheatland - one male and one female - who exemplify good citizenship through their actions both at school and in the community.

Fourteen district employees and volunteers were honored for their contributions to the district. One of the most notable awards, Volunteer Citizen of the Year, was presented to longtime Farrell High football coach Lou Falconi.

"I made my living in Farrell and thought it was time to give a little back," he said of his volunteer efforts for Farrell football and, most recently, helping to bring back Farrell's Homecoming event. "To put it simply, it's nice to be appreciated."

Falconi said if the award had cost the district anything, he would refuse it on the grounds that the district would need the funds more than he.
"Good work is definitely noted here," Adams-King said. "And we are so fortunate to have one of our alumni donate to the school on an annual basis."
Terry Harrison, school board president, remarked that "every employee impacts the children" throughout the district, whether they attend the elementary or high school.
He also applauded Pedas' ongoing contribution to the district's planetarium, which now includes nearly $30,000 for operation and technological improvements which will allow for new programs for both students and the public.
"I remember when I was a kid, the planetarium was the most popular place to go," Harrison said.
Seven-year planetarium lecturer Mike DeMuzio expects the new technology will keep the district's programs up to date with the latest scientific discoveries and hopes the facility will continue to instill a sense of wonder and curiosity in students.
"With these improvements, we can show the sky so students can start to recognize scientific and astronomical things and ask questions," he said. "We'll be able to show Pluto this year (and other) topical things for students."
Pedas also announced he enlisted some additional professionals to help fortify planetarium programming; Christina Pedas and Kevin Lynch are expected to work on public shows.
"I'm very fortunate to have (them); they're very knowledgeable," Pedas said.
Lynch said bringing back public programming will be "very nice; many people grew up with it and can now bring their kids, making it a generational thing."
"People won't have to travel; it's local and free," Christina Pedas said of the upcoming public shows. "With the much-needed improvements, we're OK to go. We're just fine-tuning."
Adams-King voiced her excitement for the facility's updated tech as well, mentioning its benefit to the district's ongoing Science Technology Engineering and Mathematics initiatives, commonly known as STEM.
"Students here have something no one else has access to," she said of the planetarium. "Let's continue to work together to benefit our students and the greater community."
---