Wednesday—July 11, 2001
City will honor a star citizen
Ted Pedas isn't coming to the ceremony empty-handed. He's bringing some gifts of his own.
by Harold Gwin, Vindicator Sharon Bureau
---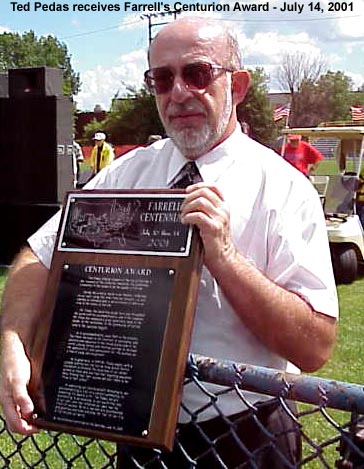 FARRELL, PA. — The city will use its centennial celebration to honor one of its favorite sons at 2 p.m. Saturday at the Farrell Area School District complex at 1600 Roemer Blvd.

Ted Pedas, who spends most of his time these days arranging and traveling around the world on archaeological and astronomical cruises while keeping his residence in Farrell, will be presented with the City of Farrell Centurion Award.

"That's the city's highest honor during this centennial year", said Mayor William Morocco.

Pedas, 62, was selected by the Honors Subcommittee of the Farrell Centennial Committee.

City Manager LaVon Saternow said the subcommittee was looking for an honoree who stood out in both personal achievement and contributions to the community.

ACCOMPLISHMENTS: Pedas is well known for both. He is credited with launching the concept of shipboard educational travel more than two decades ago, particularly in the field of ocean-going science travel programs, and is still actively involved in that pursuit.

He is a founding member of the International Planetarium Society and was a finalist for the Pennsylvania Educator of the Year award in both 1979 and 1981. Among his many honors is the U.S. Department of State's Agency for International Development Award for service in education in 1977.

He has been a generous benefactor of the Farrell Area School District, where he is still director of the school district's planetarium that bears his name.

Pedas has been giving the district money for various educational and awards programs for 31 years and by his own tally, has contributed $365,000 to the school during that period.

He said he gave up a sailing trip on the Aegean Sea to be present for the city's marking of its 100th birthday this week.

GIFTS Pedas is bringing Farrell some gifts of his own.

He said he is making a $10,000, five-year commitment to fund Citizen of the Year awards.

There will be one award of $1,000 to the Citizen of the Year and a pair of $500 awards to Junior Citizens of the Year.

Pedas contributed $1,250 to the city and school district last October to help fund the centennial celebration and he's bringing another $1,250 on this trip to launch the Farrell Alumni Hall of Fame, which is designed to annually honor Farrell alumni.

Pedas said the Citizen of the Year Award can go to a Farrell resident 21 years of age or older while the Junior Citizen of the Year can be an individual under 21 from Farrell or Wheatland. The awards could also be made to a group, corporation, company or organization, he said.

The awards are designed to recognize those who have made a meaningful, positive and significant contribution to the community through volunteer efforts.

Honorees will be selected by the school superintendent, school board, the mayor and city council.

In addition to being a teacher in Farrell, Pedas worked as a planetarium and science education specialist at Youngstown State University and was a featured writer and columnist for The Vindicator.
---
Return to Ted Pedas — Index of News Articles