---
Cruising was for snoozing and boozing until 1972 when the Pedas-Sigler family revolutionized the cruise industry by introducing educational theme cruises. They launched their first Voyage to Darkness, a solar eclipse cruise aboard the Greek Line Olympia which successfully sailed into the path of eclipse totality off the coast of Nova Scotia. The ship's bars and lounges were converted into floating classrooms where a team of scientists gave Science at Sea mini-courses in astronomy, navigation, oceanography and astrophotography.
The spectacular success of the first eclipse cruise prompted a sequel for the 1973 African eclipse. The Pedas-Sigler team chartered the 1800 passenger P&O luxury cruise ship Canberra to intercept eclipse totality off the coast of Dakar. Astronomer Ted Pedas and his brother-in-law Dr. Phil Sigler, a university professor, hired an enviable team of shipboard Science at Sea lecturers including Neil Armstrong the first man on the moon, prolific science writer Isaac Asimov, and astronaut Scott Carpenter the second American to orbit the earth.
In addition to the Science at Sea program, which proved so successful on the Olympia eclipse cruise, the Pedas-Sigler team added Culture at Sea - a program which utilized passenger talent to present onboard choral and theater productions. The idea was the brainchild of Dr. Phil Sigler and New Jersey music teacher and choral director Tom Pedas.
Tom Pedas, while enrolled in Kodaly music workshops at Newark State College, discovered two extraordinary music professors - Dr. Jack Platt, a versatile composer and arranger of published musical compositions, and Aden Lewis, the author of the Listen Look and Sing music textbook series. They were invited to join the African Eclipse Cruise enrichment staff to coordinate the cruise's musical activities which included choral singing and an on board production of The Boyfriend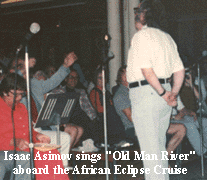 The successful African Eclipse Cruise, with its scientific and cultural programs, made the front page of The New York Times.
Isaac Asimov records his Culture at Sea experience in his autobiography In Joy Still Felt. He applauds the eclipse for putting on a spectacular celestial show however he notes that "There was something that was, for me, an even more exciting moment. There were musicians onboard ship who were arranging an amateur musical show and I went up to watch rehearsals." Asimov joined the rehearsals.
" On July 4, we put on our show, and finally I sang " Dear one, the world is waiting for the sunrise..." to thunderous applause and considerable surprise. Many people thought I was mouthing the words while it was being sung on a record player.
I sang "Old Man River" as an encore. Then when they wanted still more, I rebelled, and said I did not want to sing baritone anymore, but would sing tenor. I sang " Venezuela" (which I had heard in Chester's Zunbarg, twenty-five years before) at the top of my range.
That was really a triumph. I sang both baritone and tenor to the same audience on the same evening and did it well each time. It's a good thing I'm a compulsive writer. Otherwise, wild horses wouldn't have kept me out of show business."