ECLIPSE '72 BROCHURE
---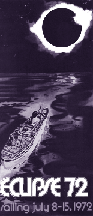 A Unique Invitation from Ted Pedas and Phil Sigler
Dear Eclipse Enthusiast,
A floating scientific hotel will be launched to observe and record one of nature's most spectacular sights — the July 10, 1972 total eclipse of the sun.
Departing from New York City a luxurious ocean going vessel, the TSS Olympia, will cruise into the narrow path of totality which will be located off the coast of Nova Scotia.
On Monday afternoon, July 10, the voyagers aboard the floating observatory will experience a memorable sight that once seen will surely never be forgotten.
The eclipse cruise promises to be a scientifically rewarding adventure as well as a highly enjoyable social event. Eclipse '72 will provide anyone who so desires with an opportunity to sail into the path of totality.
SCIENTIFIC HIGHLIGHTS