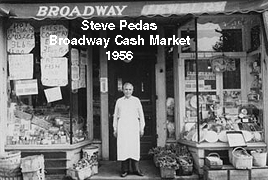 My father, Efstathios Tsimpidis (Steve Pedas), a shepherd from southern Greece immigrated to the United States to earn money for his sisters' dowries. He settled in western Pennsylvania instead of Illinois because he "wanted to be closer to Greece"
He worked for a short time at the Colonial Market and at the Sharon Steel plant. He borrowed money to open up The Broadway Cash Market at 745 Broadway Street, Farrell, Pennsylvania.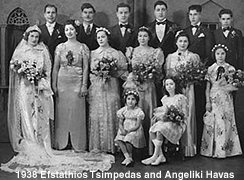 My mother, Angeliki Havas (Angeline Pedas), was born in New Kensington, Pennsylvania in 1917 where her father Georgios, a Greek immigrant from the island of Limnos, worked in the steel mill. At age three her Mother, Mercicna Cacalis Havas, died - a victim of the devastating influenza epidemic of 1918. (there was no vaccine). Unable to find anyone to care for his young daughters my grandfather returned to Greece where he remarried. My Mom grew up on the Aegean Island of Limnos. She returned to the United States in 1938 and was married off to my father, Steve Pedas.
My siblings and I, all teachers, have taught in Pennsylvania, Ohio, Massachusetts, New York and New Jersey.

For 30 years I, as a teacher and Technical Education Director, I provided all the technological needs for FASD. As the FASD Planetarium consultant I renovated, rewired and automated the Ted Pedas Planetarium system.

I am a 1959 graduate of Farrell High School. In 1963 I was honorably discharged from the U.S. Air Force, Light Ground Radio Communications Equipment Repairman Division. In 1978 I graduated Youngstown (OH) State University with a B.S. in Earth and Space Science.

Ted Pedas - FHS '56
The launching of Sputnik by the U.S.S.R. was a pivotal event for my older brother Ted who was taking an elective astronomy course at Youngstown State University. His twice-retired professor, Doc Dusty, told the class he "Didn't know what was happening," but he knew that "Everything was about to change." Ted switched his major to astronomy.

Marcy Pedas Sigler - FHS '58
My sister Marcy, a former teacher with the Boston Massachusetts and New Jersey Public School system continues her involment in education in New York City where she lives.

Tom Pedas - FHS '67
My youngest brother Tom was elected New Jersey's Music Teacher of the Year. He is dedicated to enriching lives through music. Tom credits his teachers who inspired him to embrace teaching as a career and his Farrell high school choral and band instructors for their profound influence on his life. His music career was launched in third grade at Farrell's Washington School when his classroom teacher, Miss Catherine Jankovich, taught her students to play the 'Flutetophone'. Our older brother Ted arranged for trumpet and piano lessons for him and escorted him to local musical productions particularly at the famed Kenley Players in Warren Ohio.

Pargny School

Farrell Junior High School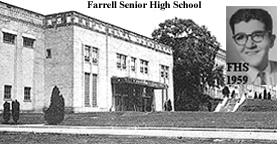 Farrell Senior High School