Students building satellite Antenna
by Rosemary Garhart, Herald Staff Writer
The Sharon Herald
Saturday, January 31, 1981
---
Students in Farrell Area High School hope to dish up hundreds of television channels by the end of this year through a satellite receiving antenna they are building.

The antenna uses a parabolic reflector which acts like a large dish-like mirror to catch the television signals. These antennas usually cost about $10,000 to $15,000. But thanks to a $25 government surplus reflector, some scrounged spare parts and plenty of ingenuity, the Farrell students expect to build the station for about $200.

The project idea struck David Schirmer, industrial arts chaiman, George Pedas, audio visual coordinator in Farrell schools, and John Perfilio, art director, when they saw two reflectors with $25 price tags at a government surplus sale in Harrisburg.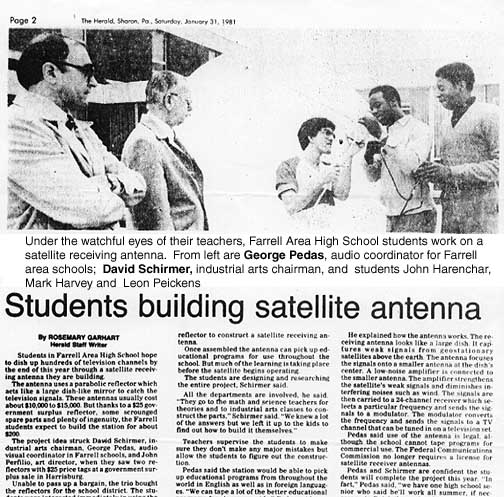 Unable to pass up a bargain, the trio bought the reflectors for the school district. The students were interested immediately in using the reflector to construct a satellite receiving antenna.
Once assembled the antenna can pick up educational programs for use throughout the school. But much of the learning is taking place before the satellite begins operating. The students are designing and researching the entire project, Schirmer said.
All the departments are involved, he said. "They go to the math and science teachers for theories and to industrial arts classes to construct the parts," Schirmer said. "We knew a lot of the answers but we left it up to the kids to find out how to build it themselves.
Teachers supervise the students to make sure they don't make any major mistakes but allow the students to figure out the construction.
Pedas said the station would be able to pick up educational programs from throughout the world in English as well as in foreign languages. "We can tape a lot of the better educational programs for classroom aids," Pedas said.
He explained how the antenna works. The receiving antenna looks like a large dish. It captures weak signals from geostationary satellites above the earth. The antenna focuses the signals onto a smaller antaenna at the dish's center. A low-noise amplifier is connected to the smaller antenna. The amplifier strengthens the satellite's weak signals and diminishes interfering noises such as wind. The signals are then carried to a 24-channel receiver which selects a particular frequency and sends the signals to a modulator. The modulator converts the frequency and sends the signals to a TV channel that can be tuned in on a television set.
Pedas said use of the antenna is legal although the school cannot tape programs for commercial use. The Federal Communications Commission no longer requires a license for satellite receiver antennas.
Pedas and Schirmer are confident the students will complete the project this year. "In fact," Pedas said, "we have one high school senior who said he'll work all summer, if necessary, to finish the project."
---
Return to News Articles Index