Faculty - 1920
The 1920 Reflector includes a verse for each member of the Faculty.
Artwork by Peg Sabo, Class of 1920
---
Listen my children, and you shall hear of the wonderful faculty we have here. Generous and kind, full of sympathy too. Oh, it makes it so pleasant the whole year through. They work us quite hard, as they certainly should, but we all understand that it's for our own good. As we gave our best efforts day after day from the first of September till quite late in May.
Above you will find according to rule, Principal Imler, who bosses the school. His hobby is Math so he spends most his time,a wrestling with logs, the tan and the sine. School just runs along just as nice and so true, we sometimes must wonder what Prof. has to do. We students are fine so say we all, that most of the time we don't need him at all, but when something happens, I'll tell you it's nice to drop in the office and get some advice. So I guess we'll keep him what do you say? Remember the adage of the rainy day.
---
When it comes to experience and travel and such, there are few who have records that total as much as our friend, Mr. Stillings. Who now is content to give us the value of what he has spent. He left us, remember, some four years ago, to teach in Wisconsin, surrounded by snow. From there he enlisted and at the first chance, became a buck private and started for France. We cannot give space for all he has done, while far over there a-chasing the Hun. Suffice it to say that while there he had time to travel from Brest to the Banks of the Rhine. He now teaches English and some Algebra, takes care of the science when Engstrom's away. When ever he's needed he's right on the job, but some day he plans to out-wit Irvin Cobb.
Note: Elmer C. Stillings served as Principal from 1921-1927
---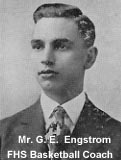 Rickety, Rickery Russ, Look here is your uncle Gus. But never the less we must confess, it's fun to hear him cuss. He coaches our basket ball boys. Their trips have always been joys. In the midst of the crowd, when they're yelling quite loud, you'll find he makes most of the noise. The boys all call him a prince, indeed they're sure of it since, they learned that a dame thinks just 'bout the same, for facts will always convince.
---
Miss Frances is puzzled as to what she shall do since she must make a choice of the work she'il pursue. Will she stay here with us and continue to teach or launch forth her sail from some other beach? Her father requests her to come to Myersdale, where he as a publisher is blazing a trail, and take up the business established up there to which she is now the sole living heir. Of course it is not for us to suggest, she is capable of choosing that which is best …
---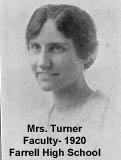 Lots of worry and much care, make the men's heads grey or bare. Not so with the other sex, they are made just total wrecks. If you doubt me come around. At the banquet will be found, several teachers most devout, yet all in and down and out. Mrs. Turner, now lies 'wake most every night until day break, thinking how to arrange a rim of decorations round the gym and who will serve the dainty eats when we finally take our seats. If you think that we don't know, ask her whether this is so.
---
Additional Farrell High School Faculty - 1920

Miss Bigler
Miss Chase
Miss Donlin
Miss Hassell
Miss Humiston
Miss Lewis
Miss Minehan
Miss MacBride
Mr. Prosser
Miss Reider
Miss Rodgers
Miss Spangler
Miss Stewart
Mr. Strebig
Miss Troup
Mr. Weaver

---
Class of '20

In years to come when Seniors new,
Will occupy our old room two,
They'll think of us, the jolly crowd,
And the halls will ring with laughter loud.

We beat all other classes a mile,
For we could study as well as smile
When exams came, my! how we worked,
In fun and studies we never shirked.

Ask Miss Minehan about our Ceasar
She'll say no other class can please her,
Miss Troupe, I'm sure will say the same,
The class of twenty abounds in fame.

From Spanish we will never hide
So says our teacher, Miss MacBride,
And Mr. Stillings thinks we're "swell",
In all his studies we excel.

In English, our own Miss Livingood presides
She laughs with us and scolds besides.
We pound the type and keep neat books
And never whisper when Miss Donlin looks.

We can "Parley-vous" our hearts content,
For Freshmen we were surely meant,
For Mrs. Turner will tell you so,
And I guess she ought to know.

But now comes our latest addition
Who straightway fulfills his life's mission,
Our boy's best friend, Coach Engstrom
In Basket Ball he makes things hum.

Miss Kirkpatrick directs the girlies' teams
And things are lively, so it seems.
The Faculty is our mutual Friend,
They'll stick to us until the end.

This class of twenty started right,
As Freshmen we were very bright,
More studious Sophomores, couldn't be found,
We studied hard the whole year round.

More model Juniors, there are not,
With the Seniors we never fought,
We led the school in finest style
It was a pleasure to see us smile.

As Freshies, Sophies, we were good,
And Juniors too 'tis understood
But at last, we find our place
For as Seniors we end the race.

When we depart the tears will flow,
Enough to flood the Shenango,
We ask but little, for us 'tis plenty
Pray, don't forget the class of twenty.
--Margaret D. Sabo '20