November 14, 2002
Dear Eclipse Cruise Traveler,
Those of you who have sailed on one or more of my previous Voyage to Darkness cruises are well aware of the grandeur provided by a total eclipse of the sun as viewed from sea.
I am pleased to announce our African Eclipse 2002 cruise aboard Royal Olympic's Olympia Countess to greet the Dec 4, 2002 total eclipse of the sun off the east coast of Africa in the Indian Ocean. This extraordinary voyage provides the best in travel — an exciting destination for an equally exciting celestial event.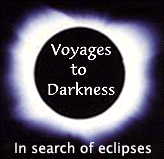 This classic 814-passenger vessel was the lead ship of five Royal Olympic ships for the August 11, 1999 total solar eclipse in the Black Sea. This year's eclipse itinerary offers exotic destinations while the Olympia Countess' maneuverability allows us to seek the best possible eclipse viewing location.
In the tradition begun with the very first eclipse cruise, (my 1972 Voyage to Darkness), we offer an outstanding Science at Sea program featuring distinguished teams of international authorities and scholars, journalists, astronomers, educators, meteorologists and photographers. They will provide you with lectures, seminars, round table discussions, slide presentations and one-on-one discussions before and after the eclipse.
The December 4, 2002 eclipse will be observed from the decks of the Olympia Countess at the most advantageous position possible off the east coast of Africa in the Indian Ocean. The approximate location is 27° South Latitude and 37° East Longitude with the Sun's altitude at 53°. The duration of totality will be one minute and 40 seconds.
The maneuverability of a ship at sea is a major benefit for eclipse-seeking passengers. Part of the lifeblood of a ship is its immediate access to weather information; this constant monitoring of weather satellite data will allow it to move to a site of clear visibility. The Olympia Countess will have access to one of the world's foremost eclipse meteorologists who will assist the captain in finding the best viewing location.
The visibility at sea is 360°. From horizon to horizon, there are no obstructions - no haze,dust or pollution that can obscure viewing from land.
Just as important, traveling to the path of totality aboard the Olympic Countess means passengers take all the comforts, conveniences and luxuries with them.
Perhaps the most valuable aspect - and the one most difficult to describe - is the camaraderie that forms on board through sharing of a special moment with a group of like-minded people. Viewing a total solar eclipse under these conditions can turn this celestial occurrence into an event that is remembered forever.
We invite you to share with us the camaraderie of friends and adverturers, the excitement of an exquisite cruise, the dramatic splendor of a total eclipse of the Sun and the thrill of experiencing exciting destinations.
Join us on board -- the adventure awaits!

Ted Pedas